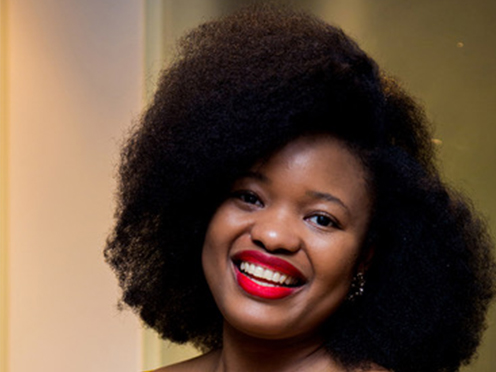 Sankofa
Chibundu Onuzo
8pm
Tuesday 24 January 2023
Kitson Hall, St Mary's Barnes
Sankofa, Chibundu's third novel, is the exhilarating story of a woman in search of a father she never knew and an identity for herself. Separated from her husband, her daughter all grown-up, and her single parent mother dead, Anna begins to wonder who she really is.
Searching through her mother's belongings, she finds clues about the West African father she never knew. Through reading his student diary and chronicling his involvement in radical politics in 1970s London, she discovers that he eventually became the president (some would say the dictator) of a small nation in West Africa – and that he is still alive. She decides to track him down and so begins a funny, painful, fascinating journey, and an exploration of race, identity and what we pass on to our children.
Chibundu Onuzo was born in Lagos, Nigeria. Her life so far spans two military dictatorships, one internet revolution, two boarding schools, five grandmothers and a first book deal signed at nineteen. Chibundu's first novel, The Spider King's Daughter, was published by Faber and Faber in 2012 and was the winner of a Betty Trask Award, short-listed for the Dylan Thomas Prize and the Commonwealth Book Prize, and longlisted for the Desmond Elliott Prize and Etisalat Literature Prize. Her second novel, Welcome to Lagos, was published by Faber in 2017 and shortlisted for the RSL Encore Award.
In 2018 Chibundu was elected as a Fellow of the Royal Society of Literature, as part of its "40 Under 40" initiative. She contributes regularly to the Guardian, has done a talk for Tedx and her autobiographical show 1991, featuring narrative, music, song and dance, premiered in a sell-out show at Southbank Centre's London Literature Festival in 2018.
Sankofa is a Reese Witherspoon Book Club Pick, a BBC 2 Between the Covers Book Club Pick and is an Amazon Best Book of the Year. It was short-listed for the Women's Prize for Fiction Futures Prize.
'Slick pacing and unpredictable developments keep the reader alert right up to the novel's exhilarating ending' GUARDIAN BOOK OF THE DAY
'Onuzo's sneakily breezy, highly entertaining novel leaves the reader rethinking familiar narratives of colonisation, inheritance and liberation' NEWYORK TIMES BOOK REVIEW