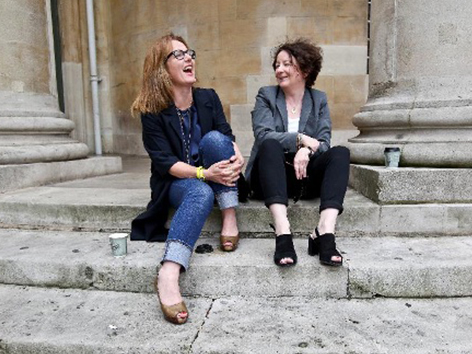 did I say that out loud? Notes on the chuff of life
Fi Glover and Jane Garvey
8pm
Tuesday 22 November 2022
St Mary's Barnes
did I say that out loud? Notes on the chuff of life is a collection of sharp, candid and very funny essays from these two broadcasting legends.
Award-winning broadcasters Fi Glover and Jane Garvey don't claim to have all the answers (what was the question?), but in these hilarious and perceptive essays they take modern life by its elasticated waist and give it a brisk going over with a stiff brush. They riff together on the chuff of life, from pet deaths to broadcasting hierarchies, via the importance of hair dye, the perils and pleasures of judging other women, and the perplexing overconfidence of chino-wearing middle-aged white men named Roger
did I say that out loud? covers essential life skills (never buy an acrylic jumper, always decline the offer of a limoncello), ponders the prudence of orgasm merchandise and suggests the disconcerting possibility that Christmas is a hereditary disease, passed down the maternal line. At a time of constant uncertainty, what we all need is the wisdom of two women who haven't got a clue what's going on either.
Jane Garvey has worked in broadcasting since 1987. She was the first voice on BBC Radio 5 Live when it opened and presented the station's award-winning Breakfast and Drive programmes with Peter Allen. In 2007 she moved not just to Radio 4, but to Woman's Hour – and discovered she'd have to prove herself all over again. Just as listeners began to adjust to her, she decided she had better leave before it was too late. She credits Fortunately – the hit podcast she does with Fi Glover – with saving her sanity.
Fi Glover is currently the voice behind The Listening Project on BBC Radio 4, and My Perfect Country for the BBC World Service. She worked at BBC Radio 5 Live for seven years, hosting shows like Sunday Service, with Charlie Whelan and Andrew Pierce, Late Night Live, and the Afternoon Show, before moving to BBC Radio 4 as the host of Broadcasting House and then Saturday Live. She now 'chunters waspishly along' with fellow host Jane Garvey about fellow BBC talent and their own lives on BBC Sounds podcast, Fortunately.
Fortunately won the Comedy Show of the Year at the Arias in 2018, and a silver Spotlight Award, and has been downloaded more than twenty million times and has over 500k subscribers. It grew hugely during lockdown, with listeners writing in to thank Fi and Jane for keeping them going in dark times, and is one of BBC Sounds top five podcasts.
'Joyous, wise, reassuring and laugh-out-loud funny. I love these two women so much.' Elizabeth Day.
 'A book like no other. Honest and very, very funny. Some bits made me want to cheer – a sentence on parenting teenage girls was so good I may get it tattooed on myself, possibly in Hebrew.' Sara Cox.