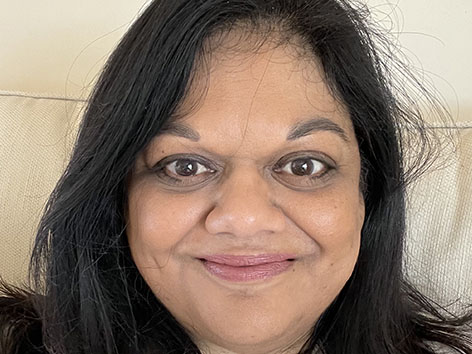 'Love After Love' and 'This One Sky Day'
Ingrid Persaud and Leone Ross
8pm
Tuesday 22 March 2022
St Mary's Barnes
Ingrid Persaud
'Meet the Ramdin-Chetan family: forged through loneliness, broken by secrest, saved by love.'
Impressible Betty Ramdin, her shy son Solo, and their marvellous lodger, Mr Chetan, form an unconventional household, happy in their differences. Happy, that is, until a night when a glass of rum, a heart to heart and a terrible truth explodes the family unit, driving them apart.
Brave and brilliant, steeped in affection, Love After Love asks us to consider what happens at the very brink of human forgiveness, and offers hope to anyone who has loved and lost and has yet to find their way back. This debut novel from the winner of the 2018 BBC National Short Story Award and the 2017 Commonwealth Short Story Prize is the winner of the Costa First Novel Award 2020.
Born in Trinidad, Ingrid read law at LSE and was a legal academic before taking degrees in Fine Art at Goldsmiths, University of London, and Central Saint Martins. Her writing has appeared in Granta, Prospect and Pree magazines.
Leone Ross
A sensual meditation on the nature of love and addiction, this dazzling and incisive novel, This One Sky Day, satirises postcolonial society and celebrates oddness.
Dawn breaks across the archipelago of Popisho. The world is stirring awake again, each resident with their own list of things to do:
A wedding feast to conjure and cook
An infidelity to investigate
A lost soul to set free
As the sun rises, two star-crossed lovers try to find their way back to one another across this single day. When night falls, all have been given a gift, and many are no longer the same. The sky is pink, and some wonder if it will ever be blue again.
Leone Ross was born in England and grew up in Jamaica. Her first novel, All the Blood is Red, was longlisted for the Orange Prize, and her second novel, Orange Laughter, was chosen as a BBC Radio 4 Women's Hour Watershed Fiction favourite. Her short fiction has been widely anthologised and her first short-story collection, the 2017 Come Let Us Sing Anyway was nominated for the Edge Hill Short Story Prize, the Jhalak Prize, the Saboteur Awards and the OCM BOCAS Prize. Ross has taught creative writing for twenty years, at University College Dublin, Cardiff University and Roehampton University in London.