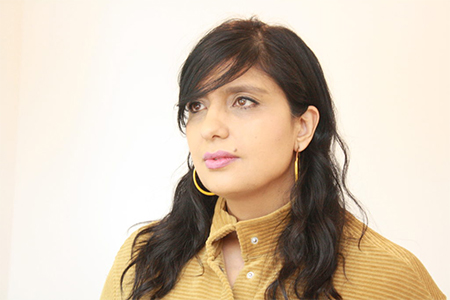 You People
Nikita Lalwani in conversation with Harriett Gilbert
8pm
Tuesday 23 March 2021
St Mary's
Church Road, Barnes
Nikita Lalwani has an intuitive understanding of people.  She is fascinated by motivation – why we do what we do, what leads to certain decisions? You People,  her third novel, is her most immediately political book.  It is about the moral choices we face in contemporary Britain and the nature and limits of compassion. When should we help those in need and when should we ignore them?  How do you love your neighbour when there are not enough resources to go around, and what happens if you make a decision that goes wrong?
Nikita has said that she wanted to write about the London you don't see.  You People shines a light on those people hidden away in the semi-formal economy within an unglamorous part of South London.  The idea that being hidden depends very much on who's doing the looking is one that interests her.
The novel is set in the early 2000s at the time of the Sri Lankan civil war.  At the centre of the action is Pizzeria Vesuvio, but this is no ordinary pizzeria. It is staffed by European waitresses at the front of house and Sri Lankan undocumented migrants hidden in the kitchen.  Tuli, the charming and enigmatic owner is involved in a variety of shady activities, but to those working for him he is a Robin Hood figure.  He holds a kind of Solomon's court where people can come for help but are also subject to his judgement.  This character is loosely based on someone Nikita once knew, a man very confident in his moral choices, and someone she has said she found inspiring.
Nikita Lalwani is a British-Indian novelist born in Kota, Rajastan, in 1973.  At an early age she came to Cardiff, where her father took up an academic post at the university.  She read English Literature at Bristol University, which was followed by a Broadcast Journalism postgraduate course. Going on to work for the BBC, she produced TV programmes and documentaries before becoming a full-time writer.  Her first novel Gifted was long-listed for the Man Booker Prize, short-listed for the Costa First Novel Award, and won the inaugural Desmond Elliott Prize for Fiction.  Her second, TheVillage, modelled on a real life 'prison village' in northern India, won a Jerwood Fiction Uncovered Prize. In 2018 she was elected a fellow of the Royal Society of Literature and in 2020 she was awarded a Leverhulme Research Fellowship by Royal Holloway, London University, to write her next novel.
You People is to be adapted for television by World Productions, the producer of Line of Duty and Bodyguard.