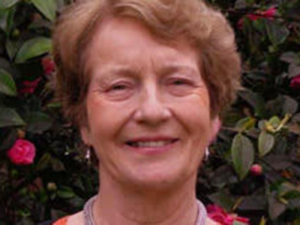 Born in Scotland and educated at Glasgow University, Fiona read French and German. Fiona's literary interests were sparked by an excellent English teacher and the very literary content of her degree where the study of the great classics of French and German literature was a major element.
Her initial career was in teaching French and German on Clydeside followed by Human Resource Management in early years in London. This was followed by employment at the University of London where she was Head of College Careers Service at several colleges of the university including the School of Oriental Studies and Royal Holloway University of London.
Fiona has always maintained a keen interest in literature and has followed various literary courses including several on Russian fiction. It was as a long standing member of a book group that she realised that there might be a place for a local Literary Society where the opportunity to meet authors and hear more about their writing would give more depth to literary discussion. On that basis she founded the Barnes Literary Society with a group of enthusiastic friends and was BLS founding chairman for 10 years.
Community participation has always been important for Fiona and she has had previous involvement in the Barnes Community Association on its executive committee with various roles including joint Chairman. She was editor of Prospect for 15 years and co-ordinated the editorial team for 10 years. She was also a trustee of the Barnes Community Association English School.