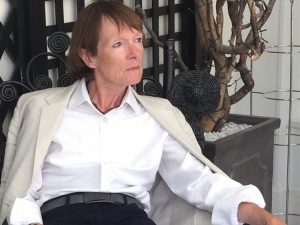 Harriett Gilbert began writing fiction in her twenties. Having first embarked upon an acting career she decided instead to make use of her Olivetti portable typewriter and started writing. Since then, she has published six novels, including Hotels with Empty Rooms and The Riding Mistress.
In 2004 she founded the MA in Creative Writing (Novels) at City University London, and was course director for four years.
Harriett comes from a family of writers. Her father was the crime novelist Michael Gilbert; her paternal grandfather, Bernard Gilbert, was a poet, novelist and playwright; her paternal grandmother, Berwyn Cuthbert, was a journalist; her younger brother, Gerard Gilbert, is also a journalist.
For many years Harriett also worked for the press, reviewing and writing about books and authors for Time Out magazine before becoming literary editor of the New Statesman. She has published non-fiction books on journalism, feminism and sexuality.
Since the early 1990s she has presented arts programmes for the BBC. As well as A Good Read she has presented the daily arts programme for the World Service, The Strand, and the monthly BBC World Book Club, where her more than one hundred well-known guests have ranged from such Nobel Laureates as Doris Lessing, Günter Grass and Toni Morrison, to popular bestsellers including Henning Mankell, Terry Pratchett and PD James.