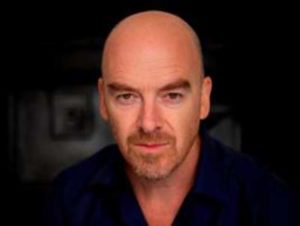 Rhidian started writing fiction in his mid-twenties. After working first as a copy-writer he started writing fiction: short stories and a novel. After success in a Time Out short story he had stories published in magazines including The New Statesman, Paris Review and broadcast on BBC Radio's Short Story. His first novel was The Testimony of Taliesin Jones, published in 1996 by Harper Collins. It won three prizes including the 1997 Somerset Maugham Award and, a couple of years later, was made into a film starring Jonathan Pryce.
His second novel Jesus and the Adman was published in 1999. In 2004, Rhidian was commissioned to write a drama Mr Harvey Lights a Candle for BBC Television. It was broadcast in 2005 and starred Timothy Spall.  He wrote for Silent Witness for two seasons before being asked to write a book about the HIV/Aids pandemic for the Salvation Army. This involved a 9-month journey, with his wife and two children, to Africa, India and China. The resulting book More Than Eyes Can See was published in 2007.
Rhidian has written a factual drama, Atlantis, for BBC1 in 2008, and then a feature, Africa Unlimited, for Pathe', that was released in 2010. In 2011, Scott Free commissioned a script based on his grandfather's experiences in post-war Germany. This became the novel The Aftermath, published in the UK by Penguin in 2013, and since translated into 25 languages. The film based on the novel and starring Keira Knightley was released 2019.
His last novel, The Killing of Butterfly Joe, inspired by his time selling butterflies in glass cases in the US was published in March 2018 by Picador. Rhidian has broadcast for the BBC World Service and Radio 4's Thought For The Day. A collection of his thoughts from the last 20 years, entitled Godbothering was published by SPCK in March 2020.