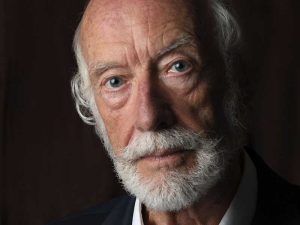 D
escribed by Carol Ann Duffy as "the patron saint of poetry", Roger McGough is arguably the most famous of the Liverpool Poets.
Roger is the author of over fifty books of poetry for both adults and children, as well as editing numerous anthologies. A Fellow of the Royal Society of Literature, he has a Cholmondeley award and is twice winner of both the Signal and CLPE Awards for the best book of poetry for children.
Born in 1937 in Liverpool, Roger studied at the University of Hull before returning to his home city of Liverpool where, in the early sixties, he became a part of the city's vibrant Mersey Beat scene. He, alongside Mike McCartney and John Gorman, formed the comic group The Scaffold, which in 1968 reached No 1 with Lily the Pink. His poetry first reached a mass audience in the Penguin Modern Poets collection The Mersey Sound which went on to sell over a million copies.
Roger is the author of a number of plays, including All the Trimmings, first performed at the Lyric Theatre, Hammersmith in 1980, and The Mouthtrap, which he wrote with Brian Patten, produced at the Edinburgh Festival in 1982. He wrote the lyrics for an adaptation of The Wind in the Willows on Broadway. His film work includes Yellow Submarine and Kurt, Mungo, BP and Me (1984), for which he won a BAFTA award, and he won the Royal Television Society Award for his science programme The Elements (1993). He is an Honorary Professor of Thames Valley University and a Fellow of John Moores University, Liverpool. Roger's autobiography, Said and Done, was published in 2005.
Appearances at BLS events include in 2007 'Said and Done – the Poet's Tale' and a poetry recital at the Barnes Literary Society 10th Anniversary Dinner (April 2014). He also took part in the inaugural Barnes Children's Literature Festival in May 2015.
In 1997 Roger was awarded an OBE for services to poetry, a CBE in 2008 and he has been honoured with the Freedom of the City of Liverpool. He is now President of The Poetry Society. Currently Roger presents Poetry Please on BBC Radio 4 and lives, fortunately for us, in Barnes.