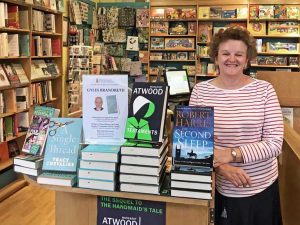 On the 19th August 1985 Venetia Vyvyan walked through the door of Heywood Hill, number 10 Curzon Street, as a confident graduate who thought that she knew rather a lot about books.  By the end of the day she realised her education had really only just begun.
More than thirty years later she is still learning, thrilled by each day's discoveries and forever grateful to John Saumarez Smith, Annie Cleghorn and David Bacon who were brave enough to employ her all those decades ago.  They taught the value of humour, courtesy and consummate customer service and that is what Venetia Vyvyan Ltd stands for, all those years on.
In 2016, Venetia was approached by an old friend, Isla Dawes, who was looking to sell her group of bookshops before moving out of London to go north to Derbyshire.  She needed little persuading to grasp this opportunity to own her own bricks and mortar bookshop and fell in love with the bookshop in Barnes – and with Barnes itself (a little piece of country in London).
Venetia's latest venture, in collaboration with organiser Anne Mullins, the Friends of St Mary's and the BLS is the Barnes Bookfest. This promises to be an exciting weekend of talks and screenings with some of Britain's best writers giving us an insight into the way they work and the subjects that fascinate them. https://www.barnesbookfest.com